I was born in a small town in Wisconsin and have always had a love for nature, especially birds and animals. I moved to San Diego in 1973, where I am now enjoying retirement with my wife, Claire, who is an accomplished ceramics artist.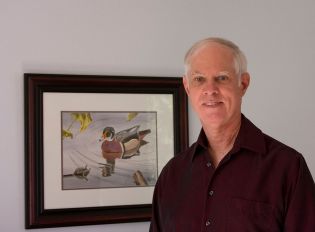 Being an engineer by profession, I find it natural to pay attention to details, so my artwork is largely representational. I began working in Pen & Ink in 1997, and after a couple of years, began adding watercolor to my drawings.  My inspiration for Pen & Ink came from author Claudia Nice, and I learned basic watercolor techniques at Mesa College and from local artist, Joe Garcia. I am a member of the San Diego Watercolor Society, Pacific Southwest Wildlife Art, Inc., and the San Diego Audubon Society.
      My interest in photography was an outgrowth of my artwork. I needed subject matter for my art, and photography answered the call. In the process of taking photographs, I was overwhelmed by the exquisite beauty of God's creatures. I knew that I was seeing these birds and animals in a way seldom seen by the casual observer, and wanted to share this experience with others. I strive to show each bird or animal in a natural setting, but without distracting backgrounds that would diminish its intrinsic beauty. People have told me that my artwork shows a keen sensitivity to my subjects. I use Canon cameras and lenses for my photographs
     I was privileged to be selected for a solo exhibit of my work at the Mission Trails Regional Park in 2010, and an exhibit with my wife at the same venue in 2013. I have also had a booth at the California Open Wildlife Art Festival in San Diego for several years and have had several exhibits at the San Diego Audubon Society office. I have received several awards for my artwork from Mission Trails Regional Park and San Diego Hospice. My photographs have been published in both national and local publications.
                                                                                                                Gerald Tietje